FREQUENTLY ASKED QUESTIONS
We know that navigating the switch from grocery stores to local producers can be overwhelming; we are here to help! Below are some of the questions that we most frequently receive about several aspects of our operation: our methods, ordering, events, deliveries, etc. If you have any other questions that aren't covered below, drop us a line at holler@purepasturestx.com and we will get back to you with an answer as soon as we can!
RAISING/GRAZING METHODS
What is Regenerative Agriculture? Regenerative Agriculture is a holistic land management practice that leverages the power of photosynthesis in plants to close the carbon cycle, and build soil health, drought resilience and nutrient density. Regenerative agriculture improves soil health, primarily through the practices that increase soil organic matter. We believe that animal impact is crucial to truly regenerating our soils, and do our best to manage our herds in a way that mimics how animals (including the American Bison) roamed and grazed this area over 200 years ago. Putting animals back on the land will give native plants the nutrients that they need to thrive, activate our native seed bank, and help us keep precious water in our soils; all of which increase the soil microbiology and the health of the entire ecosystem.
Are you certified organic? No; we are not certified organic. However, we go above and beyond organic protocols when it comes to the ranch and how we raise our animals. We do not spray any chemicals or synthetic fertilizers on our pastures; we allow the animals to take care of the "weeds" and lay down the fertilizer.
Are your animals given antibiotics, steroids, or hormones? All of our animals are raised without steroids or hormones - EVER. We try our best to raise our animals in a way that promotes herd health and minimalizes illness, but every now and then we will have an animal fall ill. Since the quality of life and wellbeing of our animals is paramount, we will treat our animals on an individual basis to prohibit any unnecessary suffering. This process involves us, tagging them, and immediately pulling them from our retail herd; these animals do not enter our food chain.
What breeds of animals do you raise? The tastiest ones :) You can learn all about our animals here
OUR PRODUCTS
Is your beef grass fed AND finished? Yes! Our cattle and sheep are on grass their entire lives. They are not finished or started on grain.
Is pasture raised and grass fed the same thing? No. Grass fed is just what it sounds like; they are fed only grass. Pasture raised means that they are raised out on pasture, and while they do a fair amount of foraging, they do receive a supplemental grain ration. Cattle and sheep are ruminant animals which means their bodies can fully digest and thrive off of forage alone. Pigs, chickens, and ducks are not ruminants, and therefore require other supplemental feeds to thrive. We have all of our feed custom milled at Lyssy & Eckel Feeds in Poth, TX; they mix a ration for us that does not contain any corn or soy.
Do your products come fresh or frozen? Yes to both, although not in the context you are thinking. When someone asks if we sell any thing "fresh", what they really mean is "thawed". We have been conditioned by the grocery stores to equate thawed meat in a package as "fresh", when in fact, it has probably been frozen, thawed, and refrozen several times before hitting the store shelves. Our meat is cut, vacuum sealed, and flash frozen, giving us the freshest products possible. Fresh also has another meaning in our world; the word "fresh" usually notates that something that is raw or hasn't been smoked or cured, as in "fresh sausage links" or "fresh pork belly".
Do you produce everything you sell? No. Our goal is to be a hub for locally produced foods; a task that we could never achieve alone! We sell many local products produced by people very close to us. We know that you rely on us to provide the highest quality products, and we take that very seriously! We have a personal relationship with everyone that produces our products, because they are all products that we like to eat.
What is your PRIME buyer's club membership? Our PRIME membership is a yearly membership ($100/year) that gets you VIP benefits when it comes to all things Pure Pastures. To learn more about the benefits or to sign up, click here.
ONLINE ORDERING/DELIVERY
Do you offer ordering "by the cut" or just by the box? In order to streamline our inventory management, at this time we are only offering boxes on the website; online ordering "by the cut" is only open to our PRIME members at this time. HOWEVER, we have our largest selection of products available "by the cut" at our Ranch Store!
Do you ship? No; Shipping is expensive and unreliable. We have decided that local delivery and selling from the ranch store is the best fit for us. Plus it keeps us in touch with all of our wonderful customers!
When I go to check out it just has "shipping" or "store pick up" as options; where do I put information for delivery? Unfortunately, we can't change some of the headers on our website, and the "shipping" label is one of them. For us shipping = delivery; if you would like to have your items delivered, the "shipping" option is the one you will choose.
How far do you deliver? Is it to my house or to a drop off point?Below is a map of our weekly delivery area. Our delivery policy is better explained here.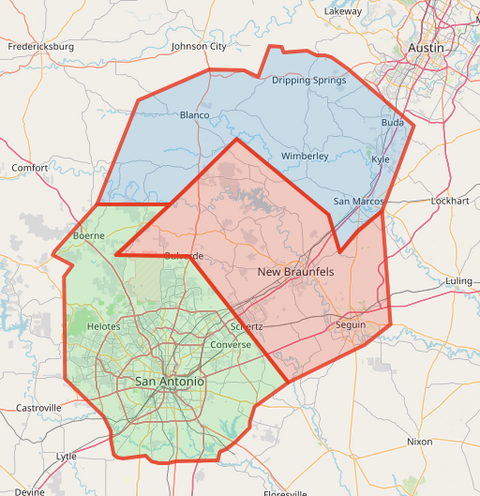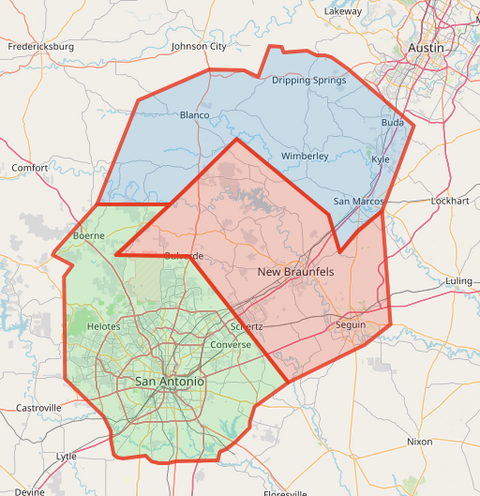 IF THERE WILL NOT BE SOMEONE THERE TO RECIEVE YOUR ORDER, PLEASE PUT A COOLER WITH ICE PACKS ON YOUR PORCH (OR IN A DESIGNATED LOCATION) SO YOUR ORDER WILL STAY COLD UNTIL SOMEONE RETURNS. IF THERE IS NO ONE HOME, AND THERE IS NO COOLER OUT, YOUR ORDER WILL BE BROUGHT BACK TO THE RANCH AND YOUR DELIVERY WILL BE RESCHEDULED
Can we pick our order up at the ranch? Yes! There is a "store pickup" option at checkout. Choose it and pick your order up any time during store hours.
Do you do half/whole beef/pork/lamb? At this time, no. We are trying to manage inventory with the current drought conditions. It is possible that we will be able to do a round of halves/wholes in late October; first dibs will be given to our PRIME members, and then we will open deposits up on the public website. The best way to stay up to date is to sign up for our newsletter.
Can anyone come to the Ranch Store, or do you have to make an appointment? The ranch store is open to the public; No appointment necessary! Store hours are Friday 1pm - 5pm, Saturday & Sunday 10am - 2pm and the address is:
Pure Pastures Ranch Store
598 Thumper Ln
Canyon Lake, TX 78133
EVENTS
Can we take a tour? We have done private farm tours in the past, but we have had to put a hold on them right now due to equipment/being short staffed. We hope to get a system together that will enable us to do larger "ranch day" tours, and in the future would like to resume doing smaller private tours. Our newsletter will be the best place to stay up to date on this info.
Do you ever do dinners or events? This is something else we are working on for the fall! We would love to have events such as field dinners, and are working out the logistics as we speak.
Can we rent the ranch for our wedding/event? No; this is a private ranch and cannot be rented for those types of events.