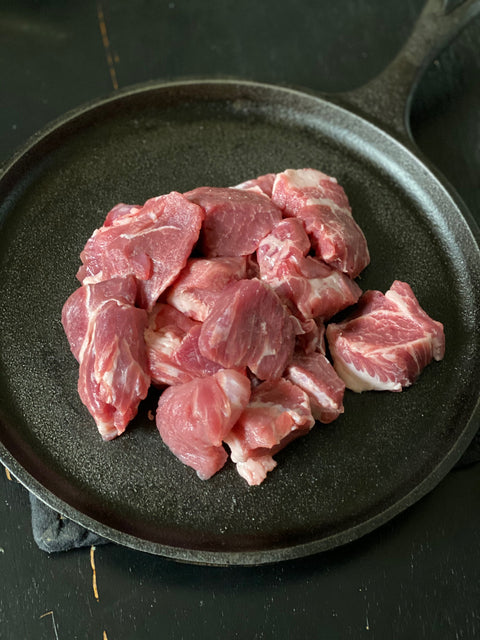 Pure Pastures
Heritage Pork Stew Box
This box contains 1 lb packages of our pasture raised, heritage pork stew meat; perfect for carnitas, soup, or stew!
Choose from a 5 or 10 lb box
ABOUT OUR PASTURE RAISED PORK
ALL PASTURE, ALL THE TIME Our heritage breed, pasture raised pork spends its entire life grazing pastures in the great state of Texas. Our pigs are free to forage as much as they want, and also have access to a corn free, soy free feed that we have mixed to our exact specifications. We manage our pigs with a holistic grazing plan that involves frequent pig moves to give the land time to rest between grazing periods. This allows the grasses to regenerate fully, and makes sure the pigs are constantly being moved to fresh forage.
CHILL PORK IS THE BEST PORK The welfare of our animals is of the upmost importance, so we focus on handling our pigs with as little stress as possible. This ensures the highest quality of life for our animals and the highest quality meat for our customers. We carry that mentality all the way through their life, including processing all our animals at a state inspected facility that is Animal Welfare certified.
A HAPPY, HEALTHY HERD Another important part of our animal welfare program focuses on the treatment of sick animals. We raise our animals in an environment that promotes herd health, but every now and then we will have an animal fall ill. To keep the animal from suffering unnecessarily, we treat the animal , tag them, and immediately pull them from our retail herd. These animals do not enter our food chain.
HOME DELIVERY INFO
 Local home delivery - San Antonio/Austin area

 

(within 50 miles of the ranch)
$15 delivery fee per order or free delivery for orders over $125 (discount automatically applied at checkout)

Hays Co/Blanco (blue area) area deliveries are every Wednesday; orders must be received by 9pm Tuesday. AUSTIN DELIVERIES WILL BE MADE THE SECOND AND FOURTH WEDNESDAY OF THE MONTH

San Antonio (green area) area deliveries are every Thursday; orders must be received by 9pm Wednesday

Comal/Guadalupe County (red area) deliveries will be made every Friday; orders must be received by 9pm Thursday
IF THERE WILL NOT BE SOMEONE THERE TO RECEIVE YOUR ORDER, PLEASE PUT A COOLER WITH ICE PACKS ON YOUR PORCH (OR IN A DESIGNATED LOCATION) SO YOUR ORDER WILL STAY COLD UNTIL SOMEONE RETURNS. IF THERE IS NO ONE HOME, AND THERE IS NO COOLER OUT, YOUR ORDER WILL BE BROUGHT BACK TO THE RANCH AND YOUR DELIVERY WILL BE RESCHEDULED